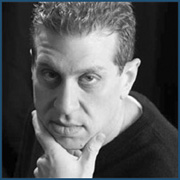 YEESHAI GROSS
Contact Yeeshai

With more than 200 shows to his credit, Yeeshai Gross celebrates his 20th year as a veteran director and producer with experience in a diverse range of theatrical genres and venues. His passion for emotionally-charged projects is inspired by his ability to elicit a depth of emotion, confidence, and strength from his subjects – from kindergarten children to adults of over 90 years old. It's an extraordinary talent that Mr. Gross has had the opportunity to cultivate and harness in both the film and theatre industries; as well as his newest arena — advertising. Mr. Gross serves as the COO of Advantages, a purpose-based advertising and marketing agency that caters to purpose-based and socially conscious clients.
Yeeshai is also the founder of Multipleoutlet Productions, a New York-based theatrical production company that has coordinated drama programs at elementary schools and high schools throughout the tri-state area since 1990.
As a director/producer for Multipleoutlet, Mr. Gross' credits include musical productions of Seussical, Peter Pan, The Music Man, West Side Story, Little Shop of Horrors, Oliver!, Fiddler on the Roof, Once On This Island, Guys & Dolls, and Damn Yankees, as well as comedies such as Neil Simon's Rumors, Laughter on the 23rd Floor, Fools, and Lost in Yonkers, and dramas including Wait Until Dark, A Shayna Maidel, The Diary of Anne Frank, Dracula and Kindertransport.
Also an accomplished set and lighting designer, Mr. Gross has supervised the sets and lighting for all of his major productions, and has taught classes in the art of stagecraft and stage design. He has also served as a Design Associate for the world's longest running musical, The Fantasticks.
In recent years, Mr. Gross' career has expanded to video direction and production, including acclaimed promotional films for a number of major organizations in the tri-state area.
Yeeshai's love for theatrics is something he enjoys sharing with the public, and he continues to serve as an event management and design consultant for a variety of companies and charitable organizations. Recently, his efforts have included the Israel Tribute Committee and their yearly Salute to Israel Parade; and eight years as the creator and producer for the Pier of Fear Haunted House event (at Hudson River Park Trust) continues to make each event more successful than the previous year.
Yeeshai has run the Drama departments for: The North Shore Hebrew Academy; The North Shore Hebrew Academy; Magen David Yeshivah; Westchester Hebrew HS; Hebrew Academy of the Five Towns & Rockaway HS; Hillel Yeshiva HS; Camp David; The Frisch School; Yeshiva University HS for Girls; The Sephardic Community Center; and The Young Israel of Staten Island. He has done individual projects for: the Yeshivah of Flatbush; The Rambam School; Tikva Children's Home; Atlantis Rehabilitation Center; H.Stratagies Public relations; and Mark Ecko Enterprises.
Yeeshai is happily married to his wife Fran, is a proud father to three beautiful children, Avi, D'vora and Ariella and resides in Queens, NY.

Formed in 2000 by Donny Epstein, Yeeshai Gross and Elie Landau, Ergo Entertainment is a New York-based producing partnership focused on independent film and theatre. Ergo is a full-service company, offering experience in script development, financing, production and distribution, with particular emphasis placed on discovering and nurturing new talent, as well as forming strategic alliances with individuals and companies that will assist Ergo in realizing its goal to become a recognized leader in the film and theatre industries.